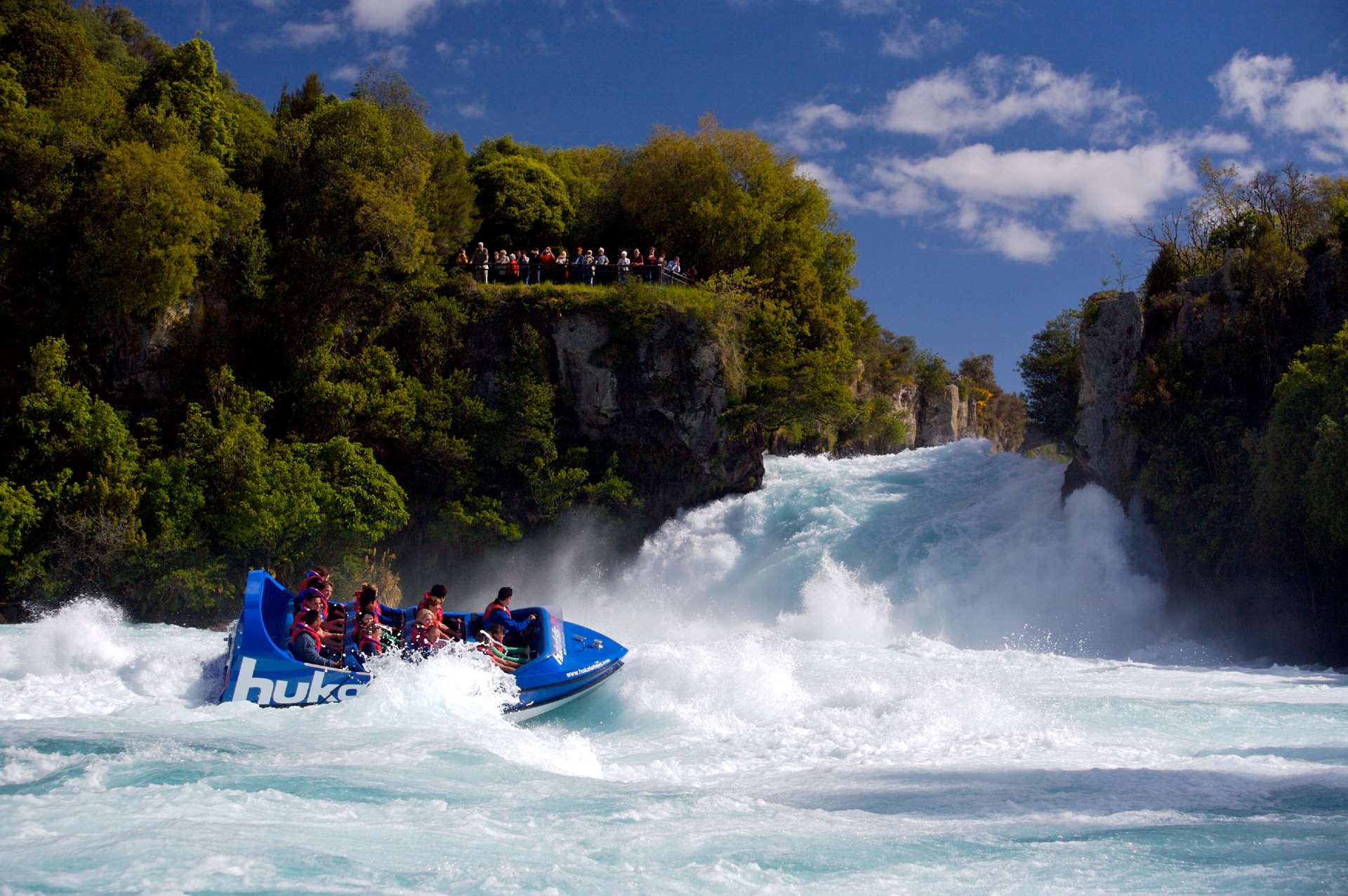 Lake Experiences
Huka Jet and Cruise Combo
Start with a gentle cruise on the scenic Lake Taupō and end on an adrenaline high on the thrilling Huka Jet Boat Experience in the Huka Falls
Book Now
Take advantage of Chris Jolly and Huka Jet teaming up to offer you an adventure combo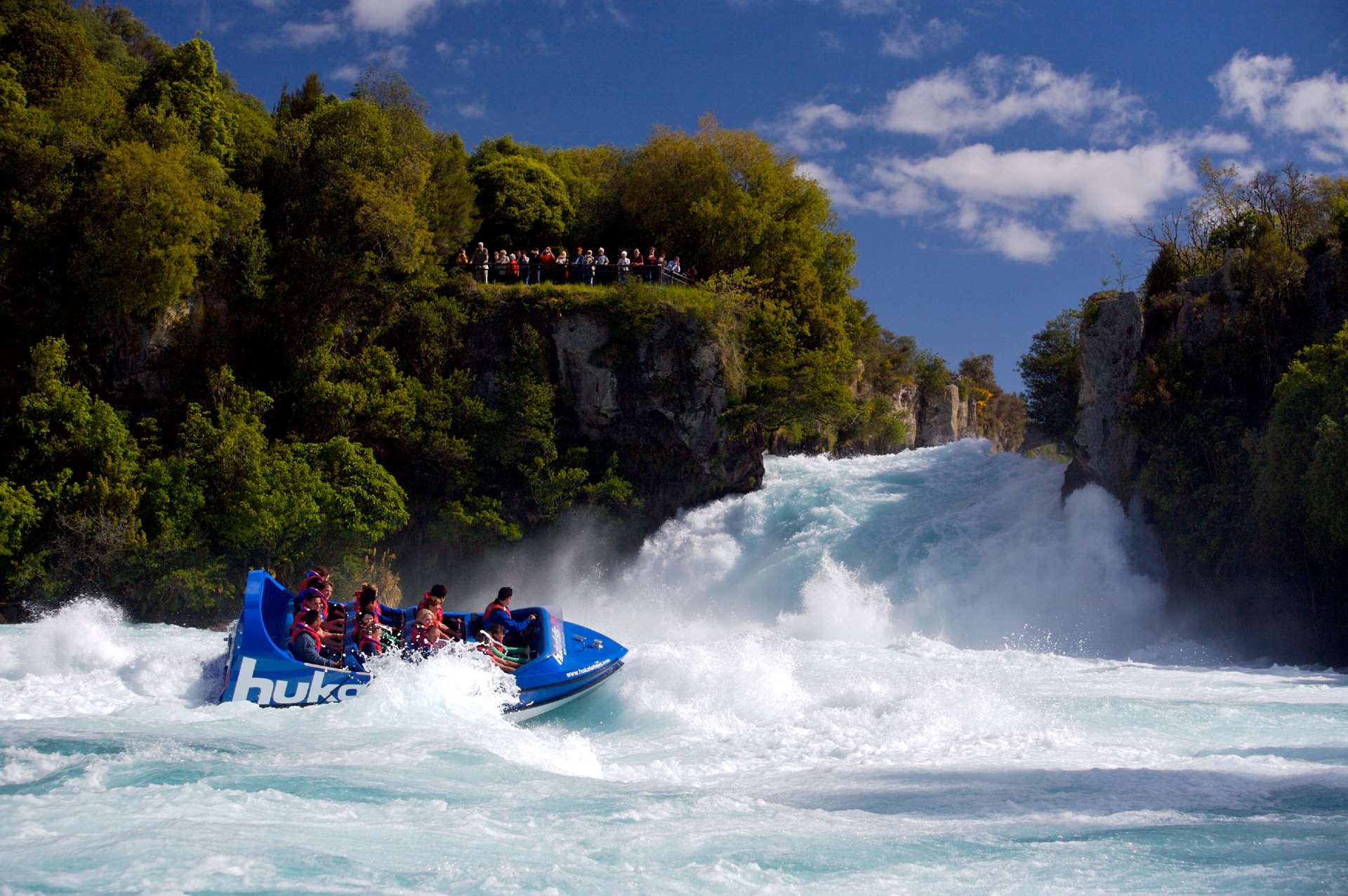 The Huka Jet Combo
Chris Jolly Outdoors Taupō and the team at Huka Jet Taupō have teamed up to offer you a double adventure. Depart from the Taupō Marina at the luxury sleep in hour of 10.30 am and head off onto the lake in Chris Jolly's Cruise Cat for a gentle scenic ride to view the famous Maori Rock Carvings of Mine Bay. Take a bite of a home made muffin and a sip of tea before returning to take a 30 minute adrenaline rush aboard the Huka Jet as it speeds along the Waikato River to view the awesome power of Huka Falls Taupō. Taste all that New Zealand has to offer and book now.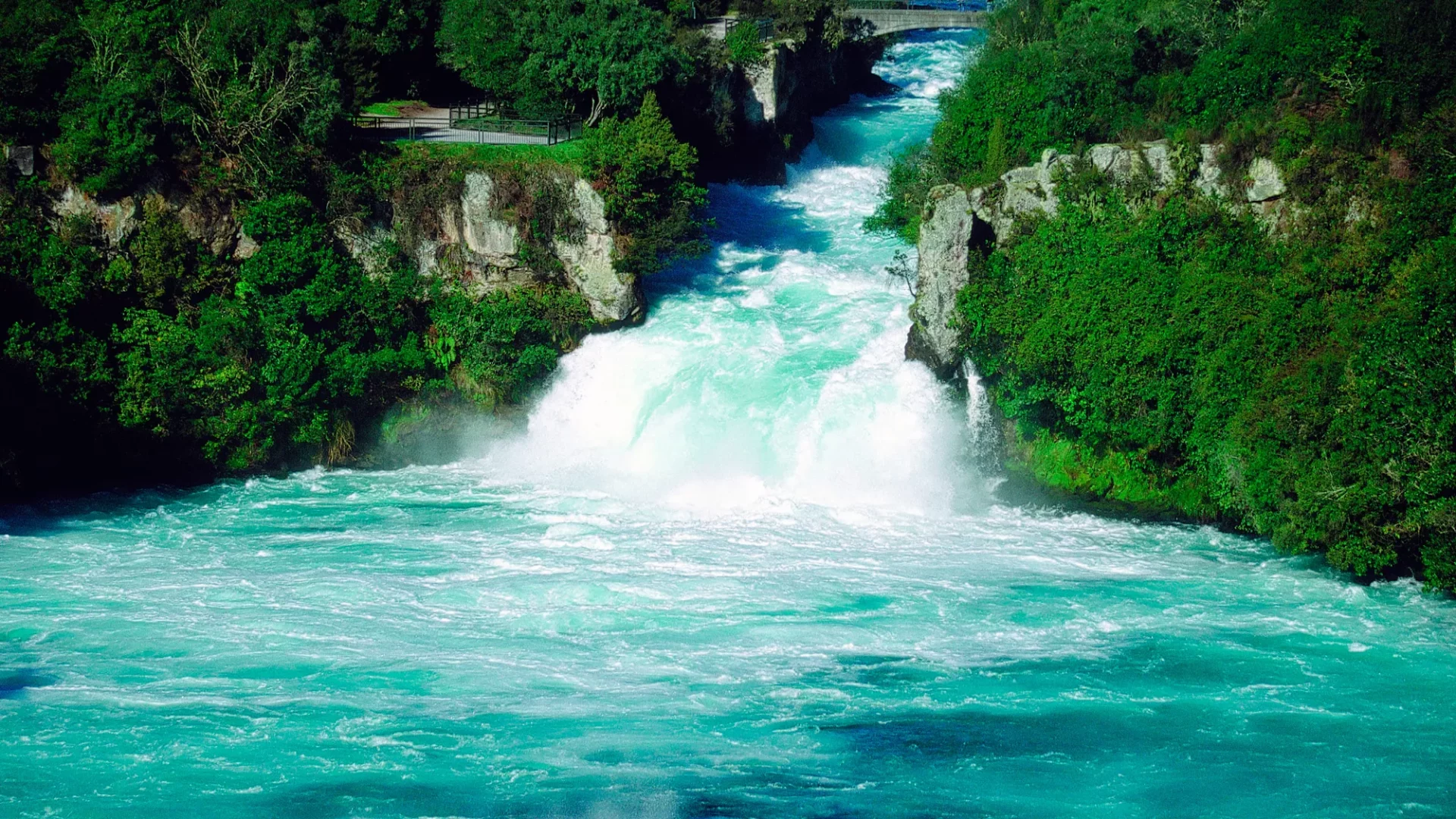 Huka Jet Combo: Lake Taupō Cruise and Huka Jet Boat Experience
Double adventure
Departs Taupō Marina 10.30 AM
Cruise Cat journey to see the Maori Rock Carvings
Live commentary
Homemade muffin and beverage onboard the cruise
90 minute cruise
30 minute Huka Jet boat ride
Epic photo opportunities at every turn
Take in scenic vistas on the stunning Lake Taupō before chasing adrenaline along the Waikato River
Visiting Taupo New Zealand? Some helpful Information:
The Chris Jolly staff are English speaking
There is no dangerous marine life dwelling in the lake.
No poisonous insects or snakes or spiders (no snakes at all)
New Zealand is underneath the hole in the Ozone layer, therefore the UV rays are harsher than in other countries.
You'll always receive the best Kiwi Hospitality!
Be Weather Wise On Your Adventure
Weather in Taupō varies from 2 to 22 degrees Celsius depending on the season. It rarely snows in the Winter at lake level with the Summer months able to get quite humid, between 70-90%. Bearing this in mind, please bring seasonally appropriate clothing and polarized sunglasses.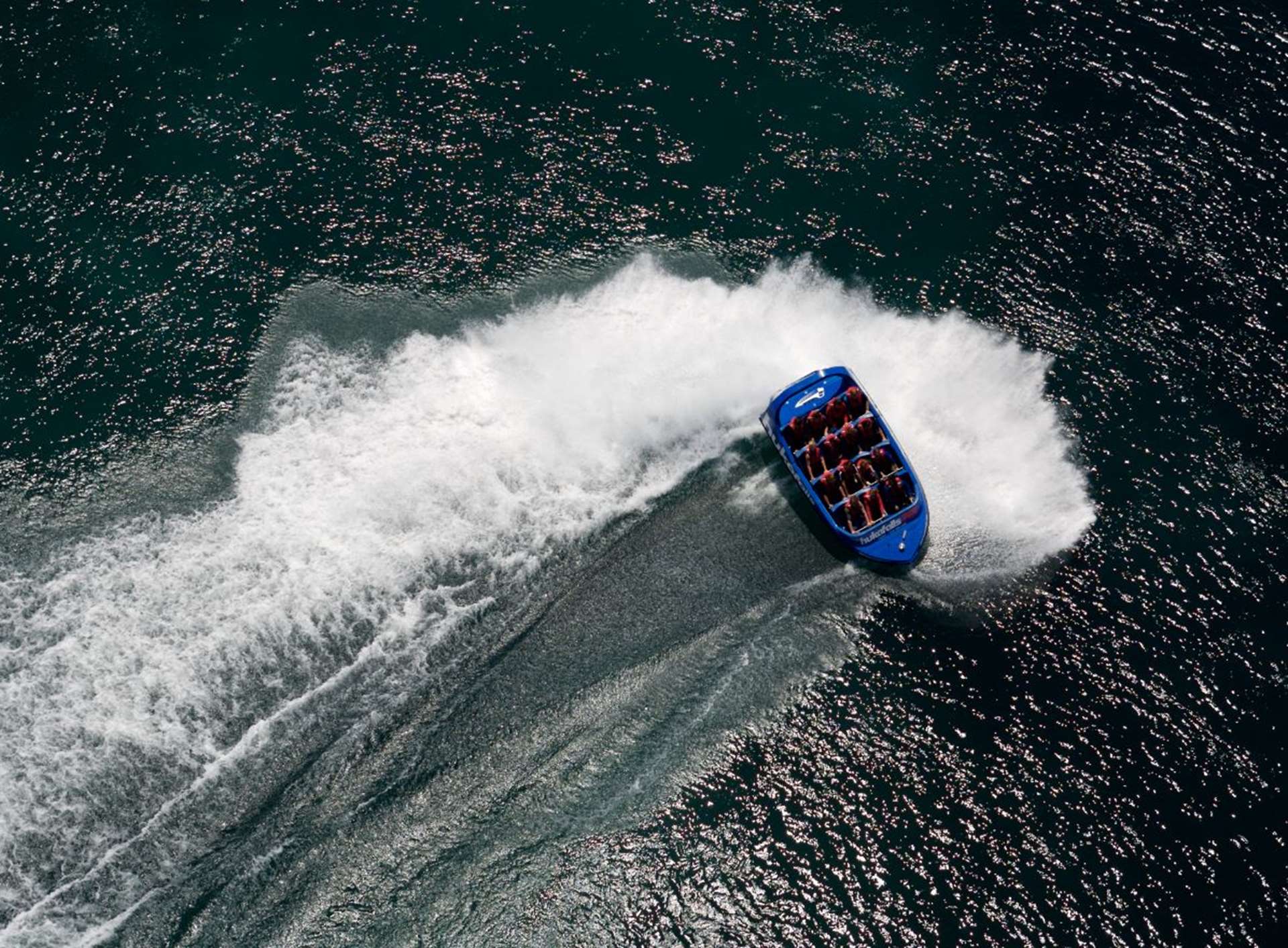 The Huka Jet Experience
Your jet boat experience at Hukafalls Jet departs at 1pm.
Check-in at the base 15 minutes prior to your departure time, 200 Karetoto Road, Taupō. You may get a little wet while jet boating, so make sure to bring a jacket and wear warm clothing should it be a cold day.
The Waikato river is damned to allow this thrilling ride to the base of the falls, be amazed by the white waters as they tumble ferociously down the maw of the riverbed.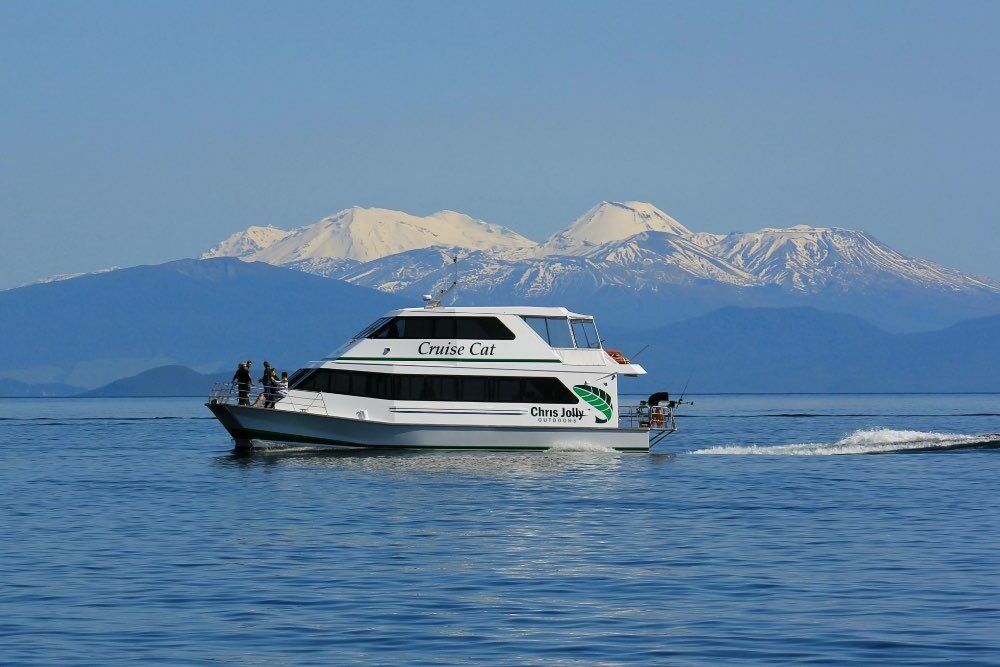 About Lake Taupō
The Great Lake Taupō is nestled in the centre of a plentiful volcanic and geothermal oasis. Enjoy panoramic mountain and lake views, explore the nearby ranges, or journey 20 minutes south to a colour ridden desert.
The Central Plateau is an area known for its nature-based tourism and extraordinary hot pools. Chris Jolly Outdoors is proud to showcase Taupō's range of hidden gems. Whether you want to meander through open plains or chase adrenaline, Taupo has it all, and we're here to guide you through it.
"This was an unbelievable experience! The crew on the boat were so informative, highly recommend"
History of the Māori Rock Carvings
The Ngātoroirangi story begins with Te Huatahi Susie Gilbert of Ngāti Tūwharetoa. Susie asked her grandson Matahi Whakataka Brightwell to create a likeness of her ancestor Ngātoroirangi on a totara tree to create a permanent connection for her family to the land.  When Matahi arrived in Taupō, there was no totara tree to carve, so he journeyed onto the lake for inspiration and found the rock alcove at Mine Bay. The alcove then became the canvas for one of the most extraordinary contemporary carvings in New Zealand. Ngātoroirangi is surrounded by smaller sculptures depicting tupuna (ancestors) and kaitiaki (guardians). Ngātoroirangi towers 14-metres above Lake Taupō and is regarded as a significant North Island tourist attraction. Ngātoroirangi is a true showpiece of New Zealand's cultural artistic ability.
"Blown away by the location"
Let loose, let yourself take a chance on a journey full of wonder and adrenaline click here to make it happen.
Reliable and Experienced
After forty years in the industry, spending time with the team at Chris Jolly Outdoors is like coming home to someone you can trust
We're a family just like you, headed by Simon Jolly with a number of the Jolly clan still working within the team
We're a bunch of fishing, hiking, boating, biking, bush experts with experienced staff who can teach you a lot about the Taupo region.
Our Fly fishing guides are Orvis endorsed, a globally recognised mark of excellence
Gold Qualmark rated (5 star rating NZ)
Specialists in corporate, entertainment and bespoke itineraries in Taupō's Outdoors.
Partners with Ngāti Tūwharetoa (TMGH) with a focus on growing Māori Tourism for Taupō
Proud conservationists with the future of our stunning Lake Taupo forefront in our minds
An Exceptionally Unique Team
As the trusted activity partner for things to do in Taupō for forty years, Chris Jolly Outdoors will take care of you during your stay here.  From absolute relaxation, and fishing crystal pools to exciting hikes in the wilderness; we are the go-to guides to tick off that bucket list.
In Taupō, the possibilities are truly endless. But one thing is certain; we will create a memorable experience for you that you'll treasure forever.  Put yourself in the picture with us, book with us today.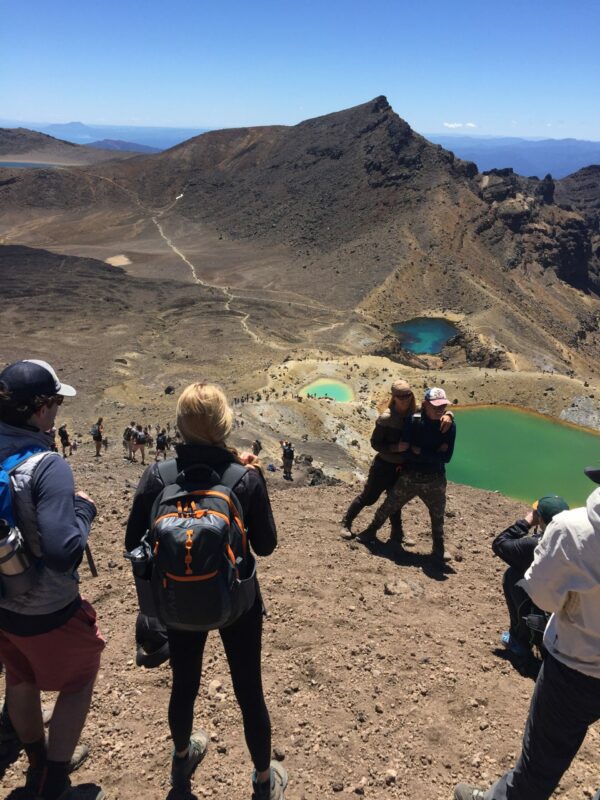 What We Offer
Five private charter boats for small or large functions up to 140 pax with full catering/bar/fishing equipment and an exclusive personal crew
Access to private land, water and know-how of local's secret spaces
Experts in the outdoors – fly fishing, hiking, biking, hunting and cruising
Corporate events & team building
Venue hire on the water – whatever it is, from Nana Beryl's 80th to your Christmas party, we can make it happen, leave the logistics to us
FAQ
Matahi Whakataka-Brightwell shares his story
Master carver Matahi Whakataka-Brightwell shares his story behind the remarkable Ngātoroirangi Mine Bay Māori Rock Carvings in Lake Taupō, New Zealand.
What is the best way to learn how to fly fish?
One of the best ways to learn how to fly fish is on a half-day flyfishing experience with a Chris Jolly Orvis endorsed guide.
Is Lake Taupō fresh water or salt water?
Fresh clear and largely drinkable water. We would recommend drinking from a stream as running water is best.
What is the Huka Falls?
A truly mighty 11-metre waterfall. It is said to be the most visited natural attraction in all of New Zealand, and it's free! Experience the foaming falls from all of the different viewing platforms to fully appreciate their power, or book in for a Huka Jet Boat ride and Scenic Cruise to get your adrenaline pumping!
What do the smaller sculptures around the Māori carvings represent?
The smaller sculptures surrounding Ngātoroirangi depict tupuna (ancestors) and kaitiaki (guardians) that are pivotal to the history of the local Māori tribe.
How big are the Ngātoroirangi rock carvings?
The Ngātoroirangi rock carvings are a staggering 14 meters tall, they were created by sculptor Matahi Brightwell and reflect his ancestry.
How old are the Māori carvings?
The Ngātoroirangi carvings took four years to complete and were finished in 1980.
What clothing is best for hiking, hunting, fishing or being outdoors in Taupō?
Conditions are changeable in Taupō, so it's best to be prepared! The local's joke that Taupō can have four seasons in a day!
Hiking boots with good ankle support and grip, or other sturdy footwear
Sun hat or warm beanie – pack one and wear the other (we lose 70% of heat through our heads alone!)
Sunglasses – wear or pack, NZ has harsh sunlight.
Base layer: top and leggings in polypropylene/wool, quick dry shorts or pants
Mid layer: long-sleeved top in wool or polar fleece – wear or pack depending on the weather
Gloves in polypropylene/wool – wear or pack, only in Winter really.
Socks in polypropylene or wool ( a spare pair is always a good idea)
A good exterior layer:
Wind and waterproof jacket with hood – wear or pack depending on the weather
Waterproof overtrousers optional
Can you swim in Lake Taupō?
We would advise a good quality wetsuit if you're going to attempt it in winter! but December through to March it is absolutely beautiful to get in to that fresh crystal clear water.
Are any of your activities child friendly?
Absolutely, we recommend the Maori Carving scenic cruise. Our boats are stocked with full amenities and we even have treasure hunts and colouring-in sheets for the kids. Our Cruise Cat Boat has cosy indoor areas if the day is looking a bit overcast or to tuck up the little one who isn't quite feeling it. Our viewing platform means we can get you super close to the carvings for a unique culture filled experience you can chalk up to an educational day out with the fam.
Can kids drive the boat?
Yes! If you ask the skipper nicely.
Is jumping into the lake allowed off the boat?
It is encouraged! Show us your best bomb, the more water spray, the better.
What should I pack for the boat?
It is always a good idea to pack the basics, sunscreen, insect repellent, a muesli bar or two, your own full water bottle, togs, a towel and a spare change of clothes and a warm jersey. The wind can go right through you on a boat so layering up is always pragmatic! A wise person packs a raincoat on a sunny day, just in case.
Contact Us
in New Zealand

073780623
from overseas

+64 7 378 0623
Related Activities