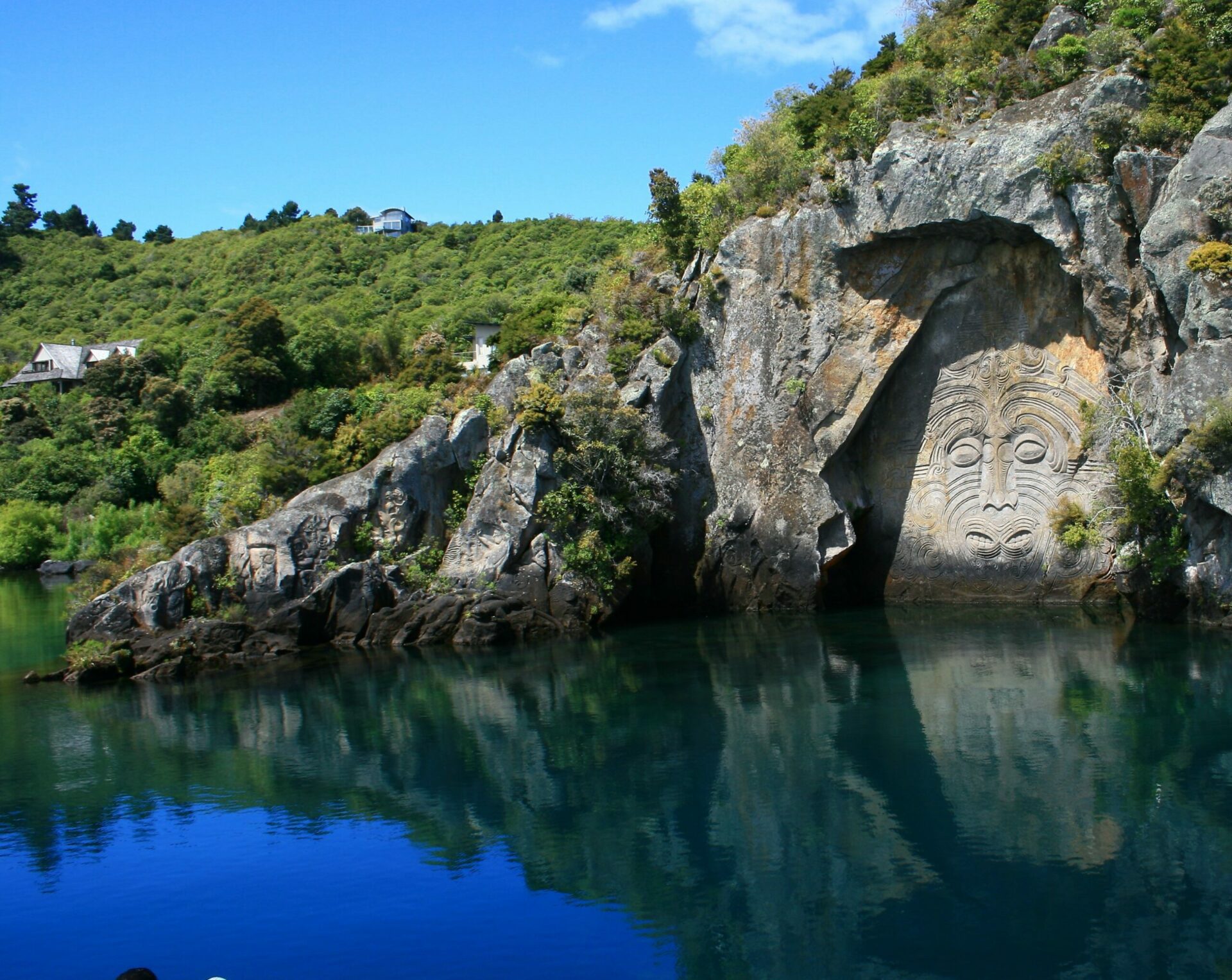 Chris Jolly Outdoors
Providing unparalleled unique experiences of New Zealand's scenic great outdoors. Journey Further, Discover Lake Taupō.
Enquire Now
Chris Jolly Outdoors' has 40 years of experience creating ultimate adventures for holiday makers visiting Taupō, trust their expertise and book yours now.
The Cruise To Plant Project
Chris Jolly Outdoors is committed to planting trees in an effort to protect and enhance Aotearoa's natural environment.
All passengers on Chris Jolly Outdoors scenic cruises will have a dollar from their ticket price go towards the planting project with The Opepe Farm Trust.
FAQ
Is Lake Taupō fresh water or salt water?
Fresh clear and largely drinkable water. We would recommend drinking from a stream as running water is best.
Is Lake Taupō a volcano?
Lake Taupō is actually the crater of what was an enormous volcano. Lake Taupō is now the largest freshwater lake in Australasia, and the southern hemisphere. Lake Taupō is roughly the size of Singapore and the eruption was one of the largest volcanic eruptions earth has had in the last 5000 years. If you skydive above Lake Taupō on a clear day, you can see the edges of the entire North Island!
What is the Huka Falls?
A truly mighty 11-metre waterfall. It is said to be the most visited natural attraction in all of New Zealand, and it's free! Experience the foaming falls from all of the different viewing platforms to fully appreciate their power, or book in for a Huka Jet Boat ride and Scenic Cruise to get your adrenaline pumping!
Does anything dangerous live in or around Lake Taupō?
Taupō, and New Zealand in general have no native or imported predators, there is one kind of poisonous spider (very small) called the whitetail, but a quick GP visit and some antibiotics after a bite and you'd be right as rain. It is the reason why we have So many gloriously fat fish and large flightless birds. The biggest threat to New Zealand's ecosystem is introduced vermin such as ferrets, cats, possums and rats.
What do the smaller sculptures around the Māori carvings represent?
The smaller sculptures surrounding Ngātoroirangi depict tupuna (ancestors) and kaitiaki (guardians) that are pivotal to the history of the local Māori tribe.
How big are the Ngātoroirangi rock carvings?
The Ngātoroirangi rock carvings are a staggering 14 meters tall, they were created by sculptor Matahi Brightwell and reflect his ancestry.
How old are the Māori carvings?
The Ngātoroirangi carvings took four years to complete and were finished in 1980.
How long has Chris Jolly Outdoors been around?
Forty long and wonderful action packed years.
What clothing is best for hiking, hunting, fishing or being outdoors in Taupō?
Conditions are changeable in Taupō, so it's best to be prepared! The local's joke that Taupō can have four seasons in a day!
Hiking boots with good ankle support and grip, or other sturdy footwear
Sun hat or warm beanie – pack one and wear the other (we lose 70% of heat through our heads alone!)
Sunglasses – wear or pack, NZ has harsh sunlight.
Base layer: top and leggings in polypropylene/wool, quick dry shorts or pants
Mid layer: long-sleeved top in wool or polar fleece – wear or pack depending on the weather
Gloves in polypropylene/wool – wear or pack, only in Winter really.
Socks in polypropylene or wool ( a spare pair is always a good idea)
A good exterior layer:
Wind and waterproof jacket with hood – wear or pack depending on the weather
Waterproof overtrousers optional
I'm planning on going hiking while in Taupō, what should I bring?
The Essentials
Day pack with a waterproof liner (no one likes wet clothes)
Drink bottle –  2 litre, per day you will be out.
Packed lunch and snacks – if you are coming on a guided hike with us here at Chris Jolly Outdoors  we can cater your hike
Fully charged mobile phone ­
Personal medication, eg antihistamines, asthma medication
Extra base layer and socks
Rubbish bag
Map of the area you'll be walking - if you are being guided you will not need this, we will direct you.
Emergency equipment:
if you are coming on a guided hike with us here at Chris Jolly Outdoors we will make sure to have the following list on hand.
Basic first aid kit including hand sanitiser, sunscreen and insect repellent
Head torch/torch and spare batteries in case you take longer than intended
Survival blanket to keep you warm in an emergency
Whistle in case your split up or need help
Extra high energy snack food
Can you swim in Lake Taupō?
We would advise a good quality wetsuit if you're going to attempt it in winter! but December through to March it is absolutely beautiful to get in to that fresh crystal clear water.
Does it get cold in Taupō?
Taupo can get to -1 or 2 degrees celsius in Wintertime, with icy winds coming straight off the central plateau mountains. It is best to pack woolly layers and definitely a wind/waterproof jacket.
Where is the best fly fishing in NZ?
Right here with Chris Jolly Outdoors on Lake Taupō and the surrounding river mouths.
Are there any native birds around Taupō?
Tui, Fantail and wax eyes are amongst the beautiful birdsong that serenades lake Taupō's verdant native bush.
Do you have transport available?
Yes, we have helicopter transfers available from anywhere in NZ but can also arrange vehicle transfers from Auckland International or Taupo domestic terminals. Our hunting and fishing guided tours have helicopter options to them, with our hunting grounds being either a 90 minute drive or a 25 minute flight from Taupo CBD.
Are any of your activities child friendly?
Absolutely, we recommend the Maori Carving scenic cruise. Our boats are stocked with full amenities and we even have treasure hunts and colouring-in sheets for the kids. Our Cruise Cat Boat has cosy indoor areas if the day is looking a bit overcast or to tuck up the little one who isn't quite feeling it. Our viewing platform means we can get you super close to the carvings for a unique culture filled experience you can chalk up to an educational day out with the fam.
Can kids drive the boat?
Yes! If you ask the skipper nicely.
Is jumping into the lake allowed off the boat?
It is encouraged! Show us your best bomb, the more water spray, the better.
What should I pack for the boat?
It is always a good idea to pack the basics, sunscreen, insect repellent, a muesli bar or two, your own full water bottle, togs, a towel and a spare change of clothes and a warm jersey. The wind can go right through you on a boat so layering up is always pragmatic! A wise person packs a raincoat on a sunny day, just in case.
When were you founded?
Founded in 1980 by Chris & Sue Jolly.
Contact Us
in New Zealand

073780623
from overseas

+64 7 378 0623